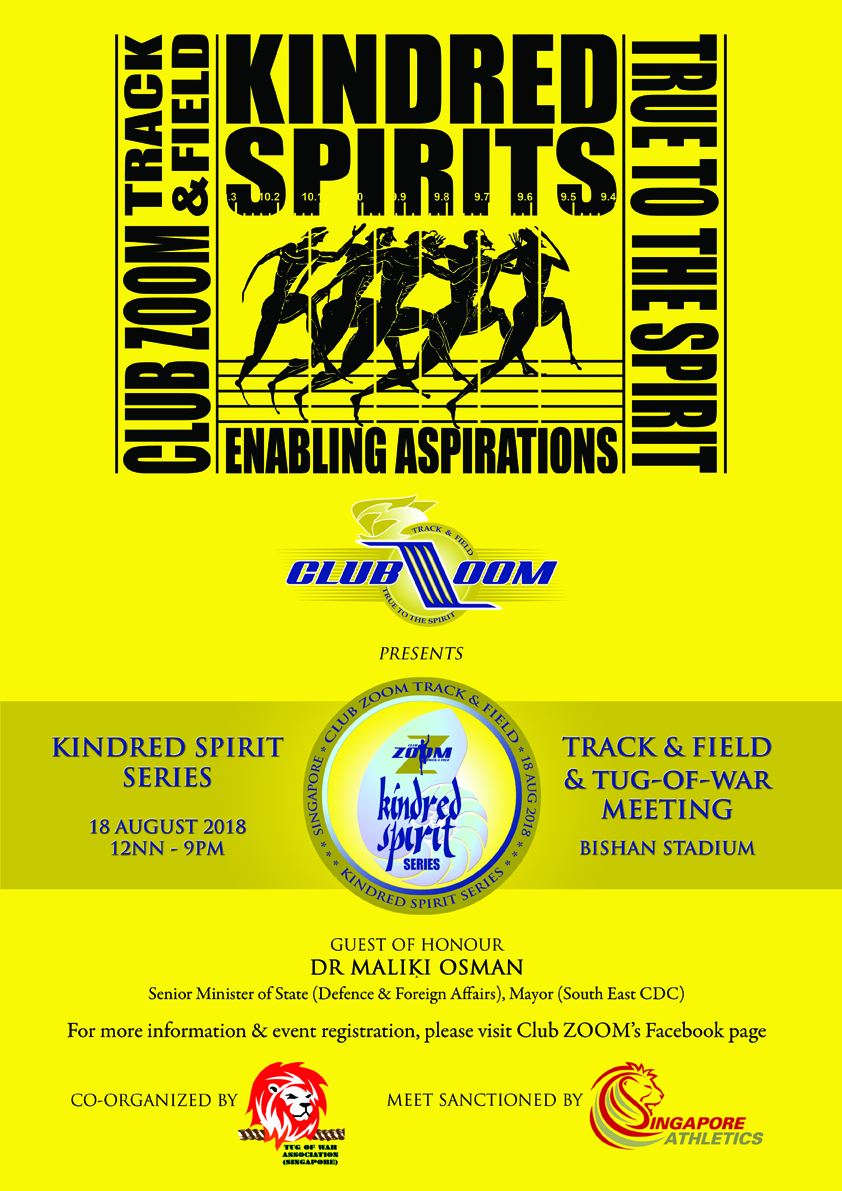 5th Kindred Spirit Series 2018
In this 5th Edition of the Kindred Spirit Series 2018, we have over 1300 entries with 800 athletes coming from Australia (Northern Territory), Hong Kong, Japan, Maldives, Malaysia, Pakistan, Taiwan, Thailand, and Singapore! Thank you for joining us, as we celebrate the illustrious life of Sir Roger Gilbert Bannister (1929-2018 https://youtu.be/J89JcRhHQxk), the opening of the 18th Asian Games in Jakarta Palembang (https://youtu.be/tE_tCZm5bGI), our Nation's 53rd Birthday and our Club's 7th Anniversary!
️
We deeply appreciate the support given and the faith placed in Club ZOOM by our sponsors that have enabled to redefine our limits today! Thank you AI Track&Field Academy, Hivelocity, SportPsych Consulting, Sports and Wellness Pte. Ltd., Team Young NTUC Wildlife, and UFC Coconut Water (our Official Hydration Sponsor)!
Share with us your athletic aspiration as you redefine your limits with #truetothespirit2018 on your social media platforms!
Downloads
Registration Information
The above championship is scheduled to be held on 18TH AUG 2018 (SAT) at BISHAN ACTIVESG STADIUM, SINGAPORE from 12pm to 9pm.
We are pleased to extend our invitation to affiliates of Singapore Athletics (SA), local and international Sport Associations, Organizations, Clubs, Institution and Schools to participate as they will be able to use this opportunity to gauge the current performance levels of their athlete's preparation for the 2019 season and the upcoming 30th Sea games in Manila, Philippines 2019. For further details, kindly refer to the attached entry forms below.
The meet is sanctioned by Singapore Athletics and electronic timing will be used.
The closing date is 31ST JUL 2018.
Reminders
Please collect your number bib at least 1 hour before the start of your event. Collection of bib will start from 10am. Do make sure that all athletes collect and wear their number bibs before reporting at the call room. Kindly refer to the attached stadium layout for the location of the number bib collection venue and the call room.
Arena: Only officials on duty, coaches with an access pass and competitors who are actually competing shall be allowed on the track and field of play.
Track events: Competitors shall report to the Call Room Judges 30 minutes before the Start of each event; Spike shoes are not allowed for the 600m run
Field events: High/Long Jumps competitors shall report to the Call Room Judges 45 minutes before the Start of each event; Pole Vault competitors shall report to the Call Room Judges 60 minutes before the Start of each event;
If a competitor is entered in both a track event and a field event, or in more than one field event taking place simultaneously, please inform the judges at the call room as well as the field judges. The field judge may allow the competitor to take his trials in an order different from that decided upon prior to the start of the competition. The competitor cannot demand to take all his trials of the rounds in which he has failed to appear.
Competition Schedule
Bishan Stadium Map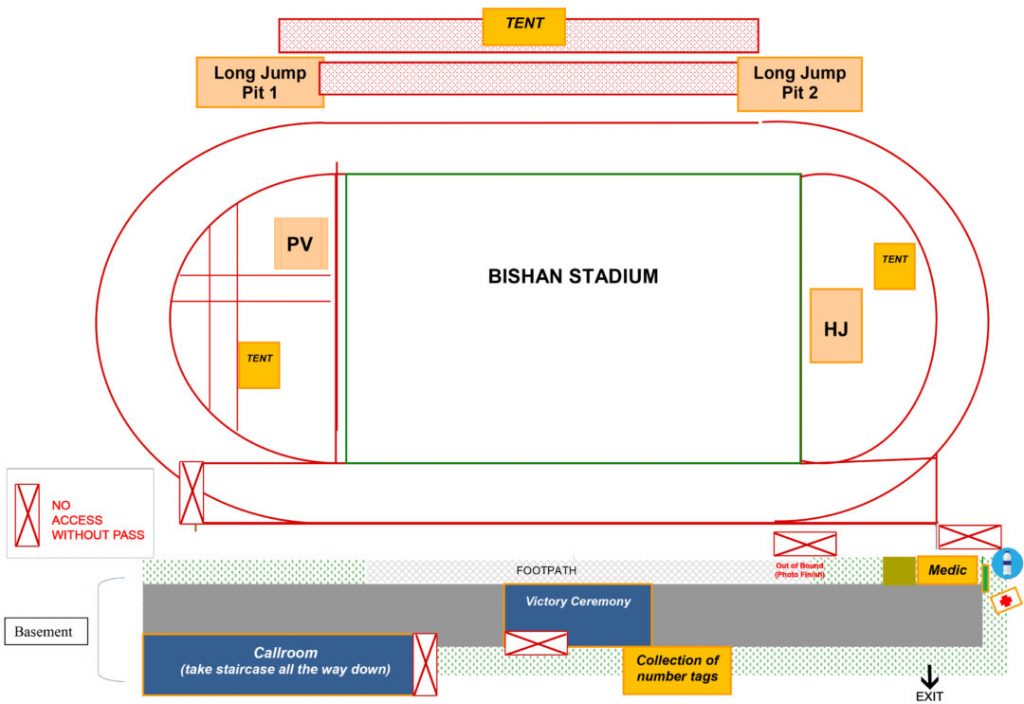 Past KindredSpirit Series
Kids & Youth Virtual 500m, 1.6km & 2.4km Entry Fee: Free Submission Date: 15th March - 25th April 2022 From 15th March to 25th April, complete a 5oom or 1.6km or 2.4km run.  Track your run using running app and submit your best timing by 25 April 2022,...