Updates 21 Jan 2019:
Download the Final Results Kids Olympiad 2019 V2  . For any discrepancies or questions related to medals, please email to enquiries.clubzoom@gmail.com. Thank you everyone for your participation!
Club Zoom's next event will be the 6th Club Zoom Kindred Spirit on 17th Aug 2019 and 1st Club Zoom Mile Challenge on 9th Nov 2019. Venues to be re-confirmed.
Updates 18 Jan 2019:
Download the Startlist Version V4 (please discard all previous versions and refer to your new bib number from Version V4)
Download the team list summary  to find your athletes, their events and bib number (comp#)
A gentle reminder that: 
Long Jump Boys U9, U11 and U13 have been divided into two 2 flights:
Event 210A LJ Boys U9 (Flight 1) at 10am (Pit 2)
Event 210B LJ Boys U9 (Flight 2) at 11am (Pit 1)
Event 213 LJ Boys U11 (Flight 1) at 1pm (Pit 1)
Event 213 LJ Boys U11 (Flight 2) at 1pm (Pit 2)
Event 216A LJ Boys U13 (Flight 1) at 2.30pm (Pit 1)
Event 216B LJ Boys U13 (Flight 2) at 2.30pm (Pit 2)
We ARE NOT accepting  entries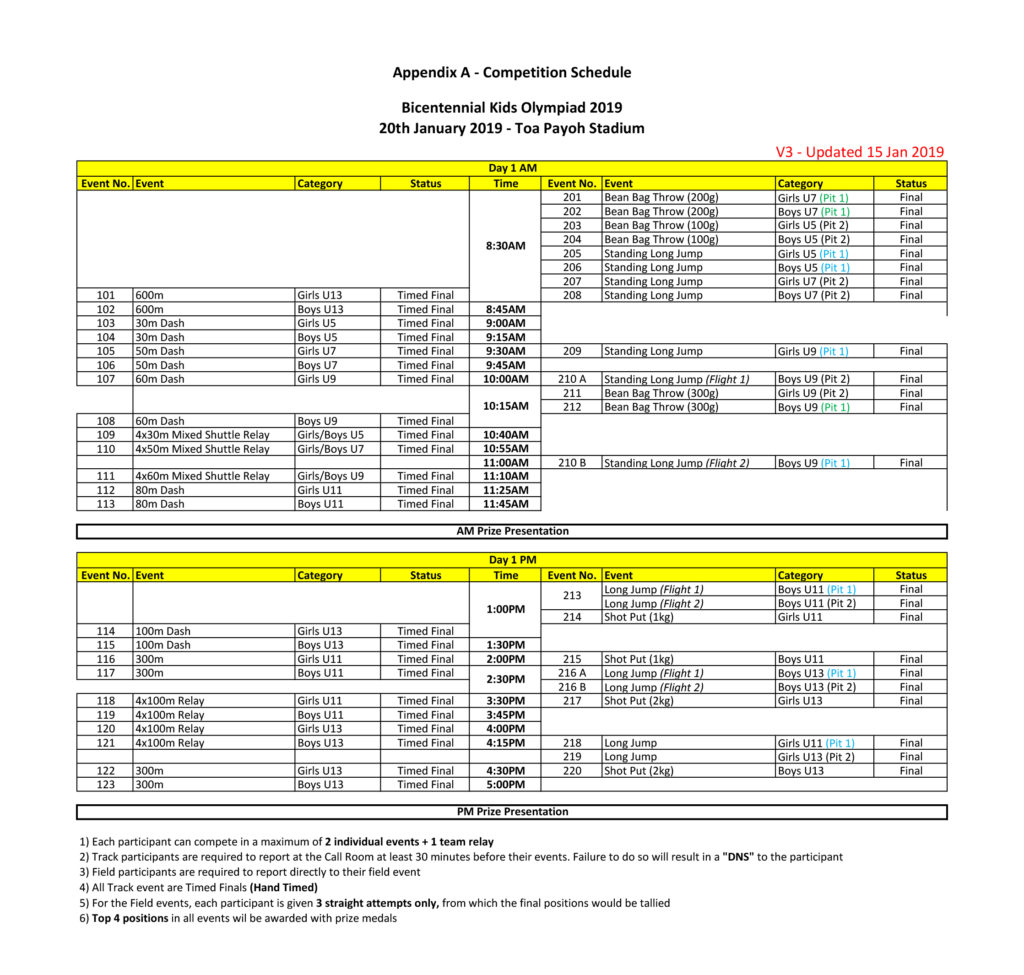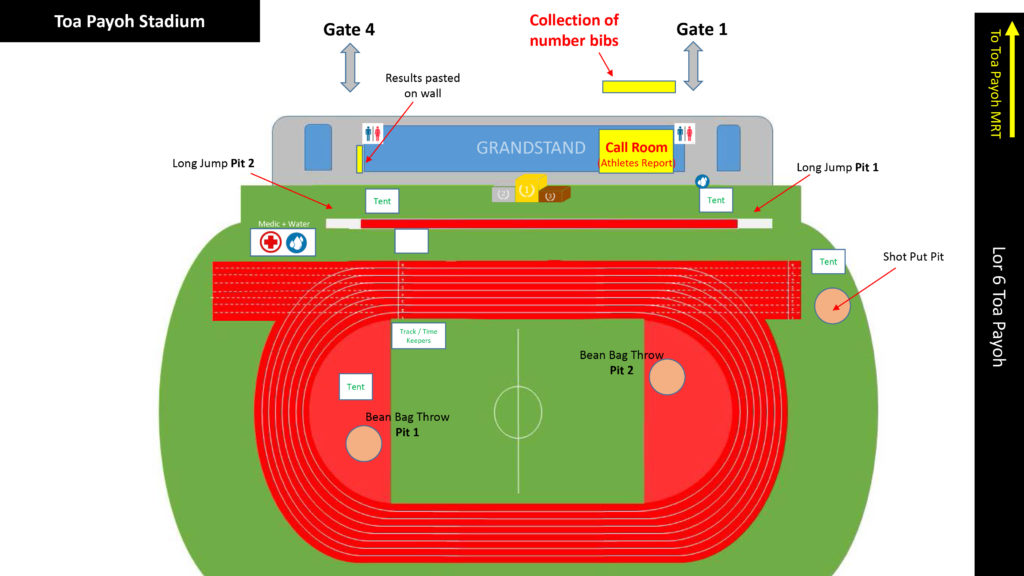 ===============================
Bicentennial Kids Olympiad 2019 jointly organised by TehBotol Sosro, Sports Lifestyle Initiatives, Singapore Masters Athletics, SMA Track & Field Academy and Club ZOOM
Date: 20th Jan 2019 (Sunday)
Venue: Toa Payoh Stadium
Time: 8.30am – 5pm
Registration is Free!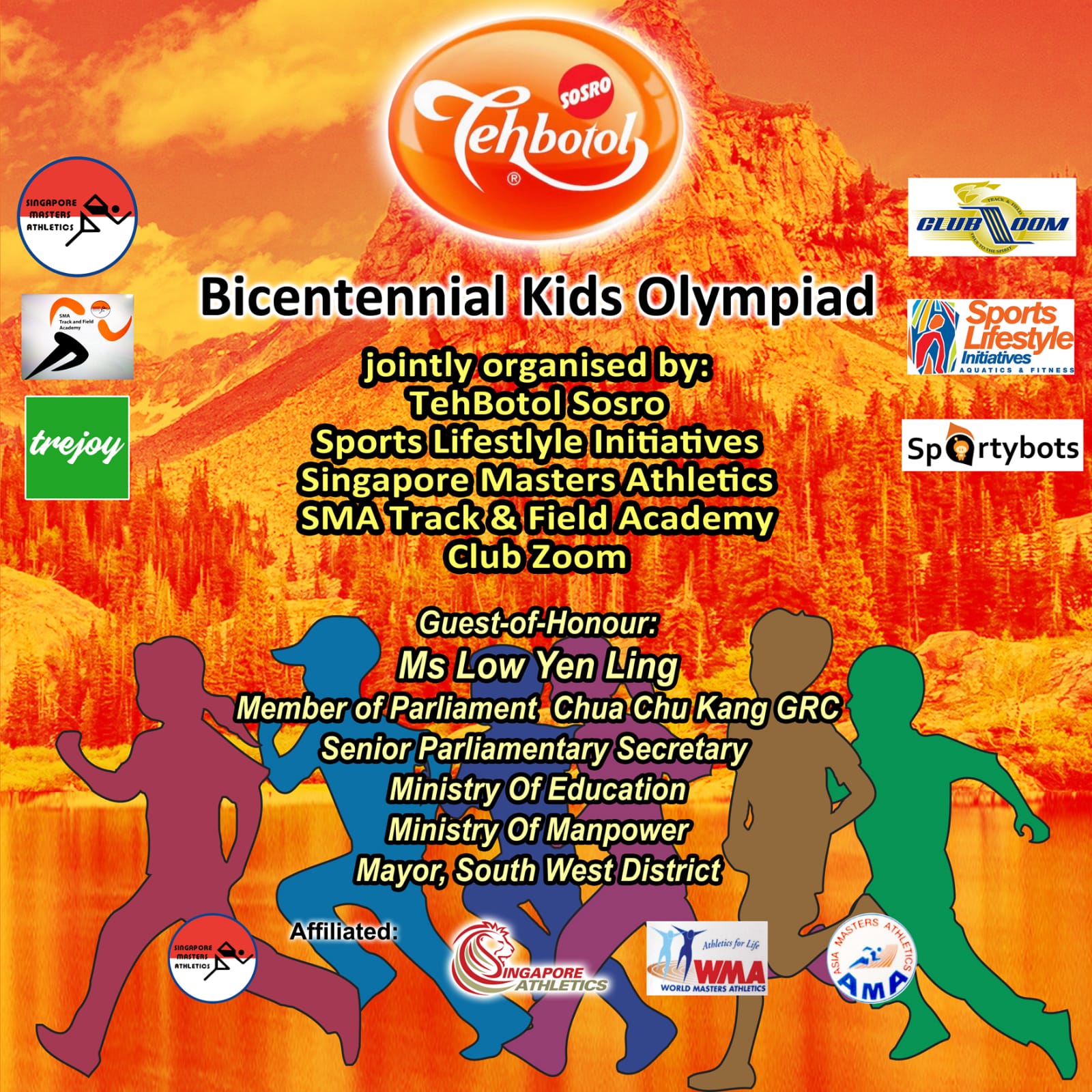 Registration Link: https://goo.gl/forms/jluDq8XkRXlPA53d2
Registration Closing date: 10th January 2019, 2359hrs
Downloads:
Notes:
Each participant can compete in a maximum of 2 individual events + 1 team relay.
All participants are required to report at the Call Room at least 30 minutes before their events. Failure to do so will result in a "DNS" to the participant
All Track events are Timed Finals (Hand Time).
For the Field events, each participant is given 3 straight attempts only, from which the final positions would be tallied.
Top 4 positions in all events will be awarded with prize medals.